Hi, I'm Lizzie, a young wife and mother from Melbourne, Australia.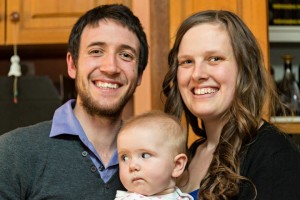 After my daughter was born, life wasn't at all what I had imagined.
I hated that I hadn't got out of my pyjamas in the six weeks since my daughter's birth.
I hated that we were eating into our savings account every week because we were eating out every other night of the week – I felt like I was failing my husband because we were living on fried noodles and pizza.
Most of all, I hated that it felt like I was 'coasting' spiritually. I hated that it had been weeks since I read my Bible.
"The chief end of man is to glorify God and to enjoy Him forever"
That kept rattling around in my head. But I didn't feel like I was either glorifying God or enjoying Him!
I was just completely overwhelmed.
As a Christian, I want to raise my family in the faith. I want to actually live out what I say I believe. And I wasn't.
I was tired. And because I was tired, I would snap at my sweet, precious baby at the drop of a hat. Seriously, who yells at a baby because they rolled over during a nappy change?
I was so caught up in my sinful selfishness that I took everything personally.
This was not the life I had imagined when that pregnancy test came back positive.

Then I discovered the one lie I had been telling myself, something I told myself every day!
"I'm doing the best I can".
When we tell ourselves (and others) that we're doing the best we can, we are actually limiting ourselves.
Essentially I'm saying, this is it… living in my PJs is the best I can do… buying fried noodles is the best I can do.
When I stopped telling myself that "I'm doing the best I can", I started asking myself "how can I do better?"
Now, I (usually) get dressed every day, I cook for my family more than I ever did before, and I'm spending regular time in God's Word!
I've found simple, practical systems that help make my everyday life as a homemaker so much easier.
Join my email list for practical tips and encouragement in your own journey as a wife, mother and homemaker.
Blessings,
Lizzie x